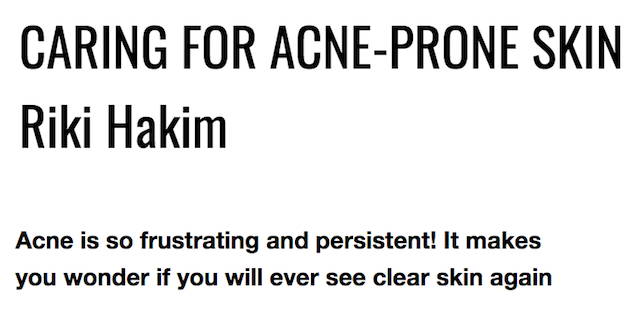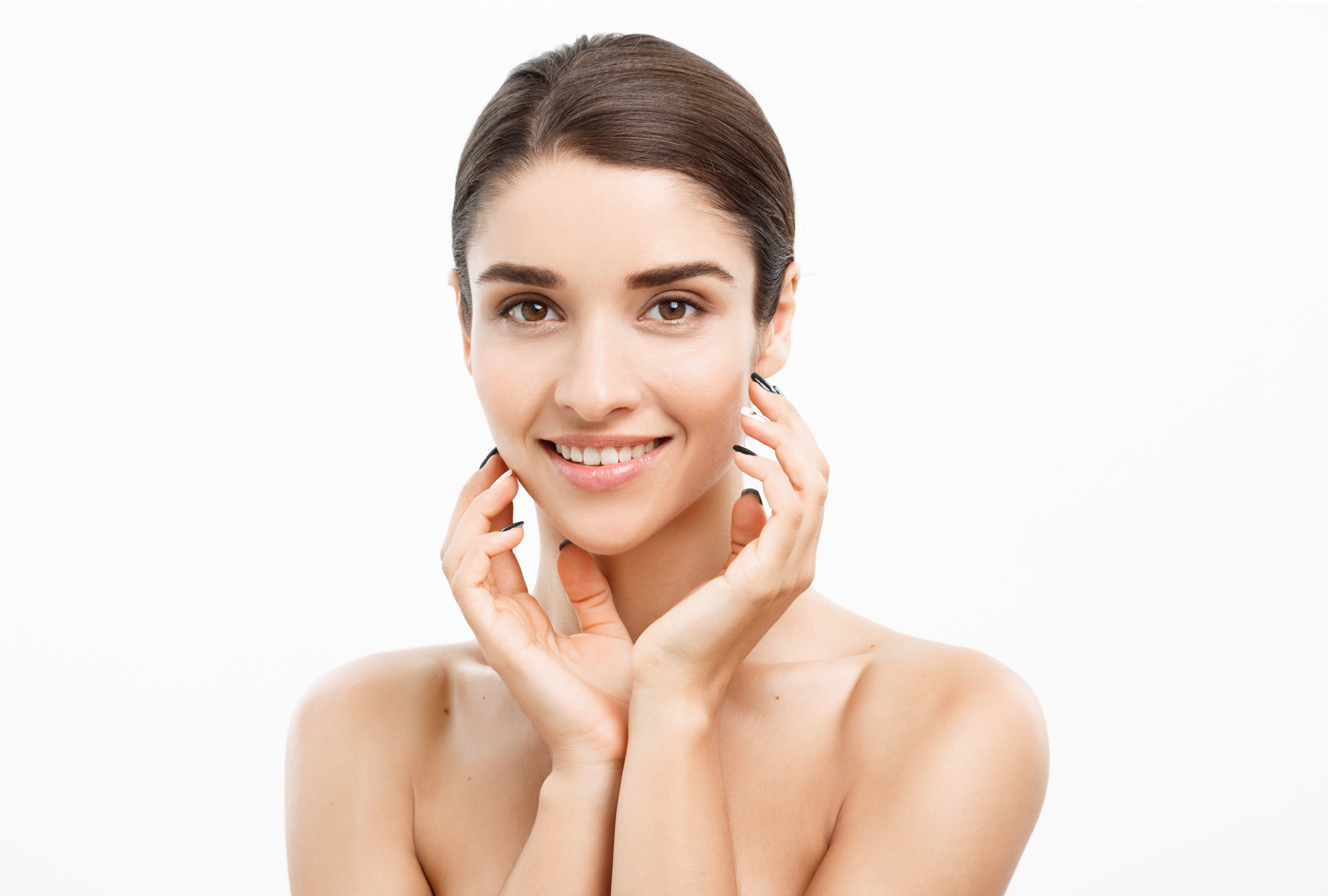 WHAT IS ACNE AND WHY IS IT
      PLAGUING ME?
Acne is so frustrating and persistent! It makes you wonder if you will ever see clear skin again. As the body begins
to mature during the teen years, hormones stimulate the sebaceous (oil) glands to make extra sebum. Pores
become clogged by excessive sebum, dead skin cells, and bacteria, which get trapped inside the pores and
multiply. This causes swelling and redness — the start of acne.
The pimples and bumps tend to go away slowly, but as soon as one begins to disappear, others crop right up! It
fills the face – and sometimes the chest, upper back, and shoulders – with whiteheads, blackheads, pimples,
tender red bumps, painful lumps below the skin's surface, and infected cysts. Although mostly the woe of
teenagers, adult acne can certainly occur! Ranging in severity, acne can cause exasperation, emotional distress,
and even scarring.
In cases of severe acne, it is best to see a dermatologist. However, there are a number of ways you can care for
your own skin to help prevent or curtail acne breakouts and maintain healthy, robust skin: cleansing, disinfecting,
peeling, moisturizing, repair, and scar removal.

      HOW SHOULD I CARE FOR
      ACNE -PRONE SKIN?
What are the three best things that you can do for breakouts? Cleanse, cleanse, cleanse – but gently and naturally! Taking care of pimply skin properly involves finding just the right balance and approach to cleansing. You may think that the more your clean your face, the "merrier." But over-cleaning is a pitfall! Too much washing can strip your face of its own essential oils that prevent skin irritation, causing skin to become red and raw. Over-cleansing will also, ironically, actually stimulate your sebaceous glands to work overtime to try to compensate for the loss of important natural oils – just what you do not want!
When you use the best acne products – products made of natural, pure ingredients – to gently clean your skin, you create the best environment for effective acne removal. Ideally, you should use pure, natural acne face wash with no artificial additives. The artificial fragrances and other chemicals in many standard personal care products can irritate the skin and produce allergic reactions. Those containing alcohol may cause the upper layers of skin to shrink, restricting oil flow through the pores and leading to more blockages and breakouts.

      HOW SHOULD I CARE FOR
      ACNE-PRONE SKIN?
Even if you have been cleansing properly on a regular basis, acne pimples can sometimes grow inflamed or infected, becoming red, swollen, filled with pus, and painful to the touch. Such severe acne is called cystic acne
      WHAT CAN BE DONE ABOUT
      CYSTIC ACNE?
If your acne gets to this point, you should see a dermatologist who can prescribe oral antibiotics or other drugs to treat the condition systemically. Products containing retinoid are also sometimes prescribed to help unplug pores. Some women and teenage girls can be helped by taking birth control pills, which regulate acne-stimulating hormones.
      IS THERE A NATURAL APPROACH FOR
      CYSTIC ACNE REMOVAL?
For sure! If you want to disinfect your cystic acne without the side effects that accompany some medications, the best approach is natural acne treatment. Effective, plant-based anti-microbials, such as melaluca (tea tree) oil, lemon, and lavender can safely be used on a regular basis to support your medical treatment.

      IS PEELING MY SKIN A GOOD IDEA?
Yes! A good way to prevent acne lesions from becoming infected is to administer frequent facials that remove dead skin cells from the surface of the face and pores. This practice, called exfoliation, helps unclog pores and remove blackheads. It also leaves healthy new cells on the skin's surface. Exfoliation is typically achieved either by mechanical (rubbing with a mild abrasive) or chemical (the use of mild acids) means.
      HOW IS PEELING USUALLY DONE?
There are three types of peels: superficial, medium, or deep. The deeper the peel, the stronger the type and concentration of chemicals employed, and the greater the length of time that they remain on the skin. Deep peels are usually performed by a medical professional or cosmetologist, but more gentle peels can be part of your daily skin care regimen at home.
      MUST I UNDERGO A CHEMICAL
      PEEL TO REJUVENATE MY SKIN?
Not at all! It is possible, and recommended, to exfoliate your skin the wholesome way with products containing herbal ingredients (e.g. linseed extract, Vitamin C, glycerin) and slightly abrasive natural materials (e.g. Dead Sea salt, pure clay).

      IS MOISTURIZING A GOOD IDEA FOR
      ACNE SKIN CARE?
One would have thought that moisturizing and healing acne do not go together. After all, skin with acne tends to be oily, and pimples often ooze an oily substance. Indeed in the past people tried to dry their acne-plagued skin with sunshine, which unfortunately carries the dangers of sunburn, skin damage, and other health risks. More recently, products containing alcohol were applied to acne. However alcohol also irritates the skin, causing an increase in excess oil production and acne breakouts.
Today skin care experts tend to agree that using the right kind of face moisturizer on a regular basis is essential for good skin care and acne prevention, whether your skin is dry, regular, mixed, or oily.
      WHY USE MOISTURIZER ON
      ACNE-PRONE SKIN?
Skin that is properly moisturized is more supple. This allows the pores to remain open and drain properly, so that excess sebum (oil) and acne bacteria that build up inside pores can be loosened and released. What is more, sufficient moisture in the skin enables it to shed dead cells individually rather than in clumps. This allows the skin to effectively rid itself of dead skin cells instead of having them clog up pores.  
Another reason to moisturize is that many available acne treatments themselves lead to dry skin, which then becomes red and inflamed. In fact, over-drying the skin can ironically cause it to produce even more oil as the sebum glands become irritated and over-stimulated, leading to more acne breakouts.
      WHAT IS THE BEST MOISTURIZER
      FOR OILY SKIN?
Whether you have acne or not, you should always moisturize with a non-clogging or non-comedogenic facial lotion or natural serum. Do not even think of using hand or body cream on your face! Smooth moisturizer once daily onto skin that is clean and slightly damp. Those with very oily skin may wish to moisturize somewhat less often on the oilier parts of their face. It is not necessary to use a separate eye cream; the delicate skin under and around the eyes should just be moisturized more lightly.
Ideally, you will wish to choose moisturizing agents that are pure and all-natural, such as Vitamin E and pure almond oil, so as not to irritate your skin with the chemicals often found in standard products.

      WHAT ARE THE BEST WAYS
      TO REPAIR MY SKIN?
Probably the most important lifestyle advice is to refrain from picking, squeezing, and popping pimples. Any make-up you apply to your face should be water-based. Maintaining a healthy diet, with plenty of fresh air, exercise, and sleep – and refraining from smoking – are wholesome ways to support the other acne remedies that you choose.
      A HEALTHY, DAILY REGIME OF
      NATURAL SKIN TREATMENT CAN
      BE THE BEST APPROACH
An e ff ective serum for oily skin will help you ward o ff that "oily look" and enhance the overall appearance of your facial skin. For an e ff ective, all-natural approach, look for a pure serum that contains a combination of such essential oils as sweet almond, bitter orange, bergamia fruit, boswellia, and eucalyptus. Lavender is another plant known for over 2000 years for its powerful antioxidant and antimicrobial properties. It is wonderful for improving skin tone and soothing irritated skin. Since it also discourages bacterial growth, lavender is a good, natural solution for preventing the spread of acne. Apply these substances daily to discourage skin care and soothe and repair acne-plagued skin.

Acne scars form when the skin becomes damaged from infected and inflamed pimples, cysts, or boils. They can take the form of a raised bump in places where too much collagen has formed or appear as a small hole or other depressed mark where tissue was lost.
      EVEN THE BEST ACNE SCAR
      TREATMENT TAKES PATIENCE!
Treating acne scars takes time. Some marks, particularly skin discoloration, will diminish on their own over a period of several weeks to several months. Other scars take a similar amount of time to fade, even with active treatment. In the meantime, stay out of the sun; strong sunlight can make scarring more evident. And refrain from picking or squeezing pimples and cysts! This can cause the infection to worsen and also possibly
      CURRENT MEDICAL APPROACHES
      TO ACNE SCAR TREATMENT
Deep peels penetrate the skin's layers to get to the root of acne scars, break down proteins, and stimulate collagen production. Because they utilize strong acids in high concentrations, deep peels must be carried out by a skilled and highly trained dermatologist. Other procedures currently employed by a trained physician include: skin needling, punch techniques, tissue augmentation, fat transfers, and laser resurfacing.
      NATURAL MEANS TO SUPPORT
      SMOOTH SKIN
For those who wish to avoid the use of harsh chemicals or other invasive medical treatments, the plant world is replete with amazing substances that can be safely applied to the skin in order to smoothe it. In fact, even those undergoing medical treatment for acne scar removal will find that complementing with natural materials can enhance the effect of their medical procedures. The natural substances mentioned below can be safely mixed together, so you can benefit from their combined positive effect.
•   Pure shea butter is one of the best anti-irritants and healing agents for the skin that exists in nature, with omega-3 fatty acids and antioxidants that inhibit the formation of scar tissue and protect the skin.
•   Vitamin C supports elastin and collagen production to help fill in the depressions made by pitted scars and improve skin tone. It has also been shown to slow down the production of melanin, thus reducing skin discoloration.
•   Palm Oil has been used in healing for over 5000 years. It is effective even against old acne scars, because of its high vitamins A and E content.
•   Calendula Oil, known for its antiseptic, antimicrobial, and anti-inflammatory properties, has been shown in clinical tests to speed up healing of acne blemishes and scars.
•   Beeswax is loaded with vitamin A, which is important for regenerating the collagen that was reduced in acne pits. Its anti-inflammatory and antiseptic properties help prevent the infections that cause and worsen scarring.
•   Lemon is simply an amazing acne treatment. It is a natural bleaching agent that can reduce the appearance of acne scars and discoloration. It gently exfoliates the skin of excess oil and dead skin cells that clog pores. A natural astringent, lemon tightens the skin, giving it a smooth radiant look.
•   Tagetes minuta is an antimicrobial essential oil that discourages acne flare-ups from becoming infected and scarred. It can also help reduce existing scars.
•   Known as the "immortal flower," helichrysum oil can help reduce the appearance of blemishes and promote a glowing, youthful complexion.
      WHAT ARE THE BEST SKIN CARE
      PRODUCTS THAT SUPPORTS
      CLEAR SKIN?
If you suffer from really pronounced acne, you need to see a dermatologist or naturopathic doctor, who can prescribe medications approved by the FDA. However, keeping a good skin care regimen is equally important, if you really wish to achieve healthy, clear skin.
Be good to yourself and to the world by establishing a face care routine using all-natural products that promote the ideal, natural balance of healthy, clear, robust skin. We recommend the Healtop products below. All are manufactured under GMP, HACCP, and ISO9000, and are vegan, cruelty free, paraben free, SLS free, and free of artificial fragrances.
Cleanse your face each evening, with some OLIVE OIL FACIAL CLEANSER, rinse, and pat dry gently. Then use CLEAR SKIN, which calms skin irritation, and spray onto your face. Wait for a minute until it is fully absorbed. Next apply 3-10 drops of SKIN REPAIR, an all-natural face serum especially designed to pamper irritated skin and improve its look and texture without leaving an oily feeling, and let dry.
Repeat in the morning – but twice daily is enough. Be careful not to over-cleanse!
To calm down and cleanse red irritated skin, mix a drop of TEA TREE ESSENTIAL OIL, into a bit of pure olive oil and apply to affected areas of your face and body, followed by a small drop of LAVENDER SUPPLEMENT, rubbed directly onto affected areas.
Although called PEELING, this amazing product is completely free of chemicals. It will enable you to gently peel away dead skin cells the all-natural way. While very effective, it is so mild that you can make it a part of your everyday healthy skin routine.
To keep your skin properly moisturized, SKIN REPAIR is a special blend of rich, all-natural, non-comedogenic oils, that do not clog pores or give skin an oily feel or appearance. Then add VITAMIN E – ALL NATURAL, a blend of Vitamin E and pure almond oil, to your daily skin moisturizing routine and enjoy the good results!
To repair damaged, irritated skin, you can do no better than LAVENDER SUPPLEMENT. This pure essential oil is so strong, yet gentle, that all you need is a drop or two rubbed directly into your skin.
Smooth skin is ideal for smoothing out skin differences skin and minimizing the look and texture of scars. Just spread a tiny amount daily on your scars and you are well on the way to clear skin!
Studies have shown that the very best vitamin supplement for lightening and removing acne blemishes and scars is undisputedly VITAMIN C. Since vitamin C is not stored in the body, it is important to replenish it daily.
      IS THERE A GOOD WAY TO
      ECONOMIZE WHEN BUYING
      THESE PRODUCTS?
Absolutely! When you purchase CLEAR FACE KIT or CLEAR FACE PLUS KIT, you can enjoy considerable savings on the amazing products above, which are "best friends" to a person determined to achieve clear skin
THE INFORMATION CONTAINED IN THIS GUIDE IS NEITHER A SUBSTITUTE FOR REGULAR MEDICAL CHECKUPS NOR A SUBSTITUTE FOR DISCUSSING YOUR GENERAL HEALTH AND NUTRITION NEEDS WITH YOUR PHYSICIAN OR HEALTH CARE PROVIDER. NONE OF THE RECOMMENDED PRODUCTS IS CONSIDERED A MEDICATION OR INTENDED TO REPLACE MEDICATIONS OR TREATMENTS YOU MAY BE TAKING OR NEED TO TAKE. IF YOU ARE PREGNANT OR UNDER THE AGE OF 18, OR IF YOU ARE TAKING MEDICATIONS OR RECEIVING TREATMENT OF ANY KIND, YOU NEED TO CONSULT WITH YOUR PHYSICIAN BEFORE USING ANY OF THE PRODUCTS OFFERED. THE SAFETY OF THE OFFERED PRODUCTS WAS NOT TESTED BY THE FDA. YOU MUST READ THE LABELS OF EVERY PRODUCT YOU USE BEFORE USING IT IN ORDER TO MAKE SURE YOU ARE NOT ALLERGIC TO ONE OF THE INGREDIENTS IN IT.